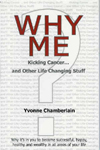 Diagnosed with deadly black melanoma, given only 6 weeks to live and facing amputation of her leg, Yvonne said an emphatic 'NO' to doctors. She took control, refused to believe her doctor's dire predictions and is here to tell her story 30 years later. By the way…Yvonne still has both her legs and has been cancer free for over 30 years.
Yvonne found the real cure for cancer, one that was inside her all along, her own strength! She fought 'deadly' black melanoma successfully with anti cancer herbs and natural cancer therapies only.
Listen to Yvonne's story here.
The audio is 30 minutes, so grab a cuppa and settle in for a bit.
You can download the audio by right clicking and saving the file to your download folder or desktop, right click on a PC, hold ctrl and click on a Mac.
Yvonne takes on black melanoma and wins!
If you prefer, you can download the transcript in PDF form here.
"People have been intrigued to hear that it is possible to control your thoughts and to overcome your paradigms of previous programming. Since understanding this concept I have become a life coach helping others to understand that our circumstances are either an excuse or a stepping stone to our destiny.

People can order Why Me? from my website, www.whyme.net.au and can also subscribe to my fortnightly newsletters from www.totalhealth.net.au. On both websites there is information for people on the process of getting well, and on the thoughts and attitudes of staying well."

Its your time to win in 2010!

Yvonne
(c) 2011 Lisa Robbins, BScHN, RHN, CTT
Author: The Cancer Journal ~ Heal Yourself!